Perrette Vallée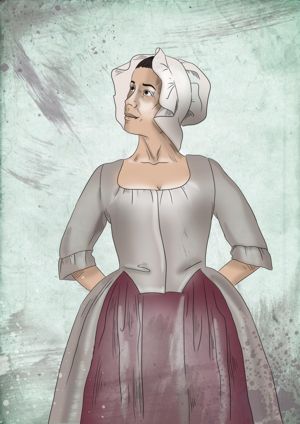 Also among the first of 18 Filles who brought our genes to North America, Perrette Vallée appears to have arrived on the same ship as Marguerite Hiardin. However, in contrast to Marguerite's life, Perrette's was short and tragic.
Born July 3, 1644 in Châlons-sur-Marne, Champagne, in France to Nicolas Vallée and Madeleine Major (or Mahuet), she was likely recommended by her parish priest for the Filles du Roi program after losing one or perhaps even both parents. She would then have been recruited and travelled to Dieppe in mid-1665 with the travel advance she was provided by the king's agent.
It's unlikely that Perrette knew Marguerite Hiardin among all the other Filles at the time of boarding Le Saint-Jean-Baptiste for departure. She would have had her 21st birthday at sea, although records about 17th century voyages to New France tell us that they were not the happiest place for celebration. Like Marguerite, there is nothing in the research to indicate that Perrette had a personal dowry beyond the trousseau and contents she received from the king. And like Marguerite, she chose to remain in Québec City when Le Saint-Jean-Baptiste landed rather than carry on to either Trois Rivières or Montreal.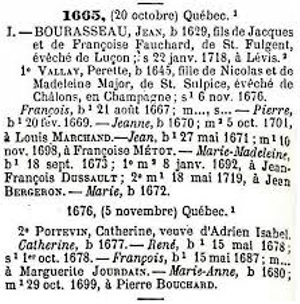 Jean Bourassa was likely born close to his baptismal date of April 1, 1634 in Saint-Fulgent, in France. His parents were Jacques Bourassa and Françoise Fouchard. In his book, P. Gagné states that "He enlisted 05 April 1657 at La Rochelle," although no mention is made whether 'enlist' refers to a military position or otherwise. (His name does not appear in the archives among the names of all the soldiers stationed in New France.) Despite the absence of details, we can at least deduce that Bourassa was 26 years old at that time and was in Québec a full eight years before Perrette's arrival.
People today who might have believed otherwise will be delighted to know that Filles du Roi who met their husbands while living with the Ursulines had great emancipatory freedom. While the nuns might have provided nurturing and prodigious care for these young women after some harrowing months at sea, it was not the same as parental authority. Back in France many women were obligated to accept the fate of marriages arranged by parents, but the Filles in Canada suddenly found themselves at liberty to make their own decisions. Better still was the fact that single, marriageable women were so rare here that it gave them an enormous advantage in the mating game. Regardless that there were probably many hastily-made choices, the Filles wielded great power over their suitors based on their gender obscurity. In a nutshell, wives were in very high demand.
Considering that theirs was a culture steeped in old Catholicism and the taboo of premarital sex, one might easily understand why comparatively so few children were born out of wedlock. It might also explain why the Filles, now completely responsible for their own decisions, had little patience for long and virtuous courtships while living with the Ursulines. If Perrette's arrival date is accurate, then not even three weeks elapsed before her marriage on October 20, 1665 to Jean Bourassa at Québec City. He was now in his 30s, but the 10 years between them was insignificant in the culture of New France. Perrette had signed the marriage contract drawn October 5 by notary Pierre Duquet, but her husband Jean could not.
Some historians state that Filles who had received the king's initial dowry and travel costs in full might not have been lucky enough to get the additional 50-livre "bonus" upon marriage. It's possible that a non-mention of the gift in the archives for some Filles du Roi simply indicates non-receipt. If so, Perrette appears to be one of the unlucky.
The couple first settled at Québec City where their first three children were born. Several sources report conflicting information about one or two of these who may not have survived childhood without any stated reason to satisfy future generations. The family then moved to Lauzon, Québec. Here four more children arrived, but only two are confirmed to have reached adulthood. Maybe there were more.
In late 1675 Perrette was pregnant again. She was only 32 years old when she died in childbirth on May 5, 1676. The new life she sought by leaving France barely 10 years earlier was suddenly over. She and her unnamed baby were buried in Québec City.
Perrette's husband Jean was now widowed with young children to care for, and in the fall of 1676 he married an unrelated Fille du Roi, Catherine Poitevin, with whom he had four more children. Since nobody in this second family has any relationship to us, they do not appear in our family tree. Jean Bourassa died in 1718 at the age of 84.
Perrette and Jean's oldest daughter Marie-Madeleine, who was just three when her mother died, would then carry her mother's genes forward and ultimately to Grandmother Clarice Bergeron.
1692 Marie-Madeleine

Bourassa m. Jean-François Dussault* » François

1729 François Dussault

m. Marie-Louise Bergeron » Jean-François

1752 Jean-François Dussault

[Jr] m. Josephte Demers » Charlotte

1792 Charlotte Dussault

m. Pierre Bergeron » Antoine

1826 Antoine Bergeron

m. Louise Genest » Alfred

1847 Alfred Bergeron

m. Lucie-Marie Bibeau » Clarice

1870 Clarice Bergeron

m. Lazare Côté
1692 Marie-Madeleine Bourassa m. Jean-François Dussault* » François
1729 François Dussault m. Marie-Louise Bergeron » Jean-François
1752 Jean-François Dussault [Jr] m. Josephte Demers » Charlotte
1792 Charlotte Dussault m. Pierre Bergeron » Antoine
1826 Antoine Bergeron m. Louise Genest » Alfred
1847 Alfred Bergeron m. Lucie-Marie Bibeau » Clarice
1870 Clarice Bergeron m. Lazare Côté
* Jean-François Dussault was the grandson of Jeanne Gisis Bahmahdjimiwi, our first Huron ancestor, documented universally as the first aboriginal in history to marry a French settler (Jean Nicolet) in the New World. Obviously every descendant of that marriage carried Bahmahdjimiwi's blood into the future including our own.