Perrette Loriot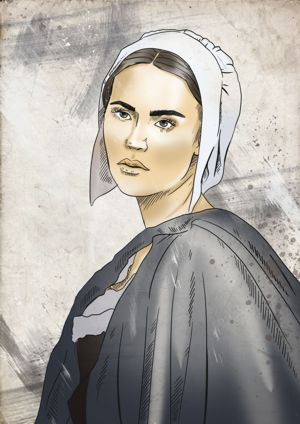 Among the final group of Filles who were our distant grandmothers was Perrette Loriot (or Lauriault), born about 1654 in Le Bourget, Île-de-France in the suburbs of Paris. Other sources say she was born two years later. Her parents' names were Pierre Loriot and Jeanne Bucquet.
Like so many others, when she came to Canada Perrette brought only the trousseau given to her by the king's agent, and it contained her dowry of personal goods worth an estimated 300 livres, according to historian Yves Landry. She arrived in Québec City in late July. Among roughly 90 other young women aboard Le Prince Maurice whose passages were paid by the king were our ancestors Madeleine Auvray and Catherine Laîné. We'll never know if the three young women were acquainted, but one thing is almost certain: They would never have considered that children they were yet to conceive would relate tens of thousands of people in the future.
Pierre Buteau was born about 1637 in Marsais-Sainte-Radegonde, Poitou in France, the son of plowman Mathurin Buteau and Marie Ragot. Pierre's occupation in existing records is also listed as a plowman, a title suggesting that normal people had pride in vocations that would be seen today as unflattering announcements of lower social status. It does appear their culture was honest.
At age 25, before leaving France for Canada on March 14, 1662, Pierre drew up a will at La Rochelle with a notary. Perhaps the only value in this information is that it provided his whereabouts in that year. But according to Gagné's book, "He was confirmed 23 March 1664 at Beaupré," that is, Canada, where he is also found in the official 1667 census. Before his affiliation with our family, he annulled a marriage contract in Québec with an unrelated Fille du Roi, Jeanne Dufossé, created on April 15, 1670 by notary Pierre Duquet. It appears to have been a short marriage, perhaps only a few months, that did not result in children. Pierre Buteau must have decided that his luck in finding a suitable life-mate was still awaiting him among the king's daughters since it's clear that he returned to the Ursulines to meet another.
On October 21, 1771, just nine weeks after 17-year-old Perrette Loriot's arrival, she married Pierre, now 34 years old, in Sainte-Anne-de-Beaupré, Québec and received the king's gift of 50 livres. She could not sign the marriage contract drawn up seven days earlier by notary Romain Becquet, but Pierre could. And so began her new life.
While it's tempting to think that early French Canadian culture meant unconstrained pregnancies and childbirth, it's apparent that for some couples there might have been at least some family planning. Perrette and Pierre did not have their first child until more than two years passed. They appear to have remained in Beaupré at least until 1674, because baptismal records for their first child indicate this. They then moved to Sainte-Famille, Île d'Orléans, Québec where they had two more children. Finally the family settled at Saint-François, Île d'Orléans where five more children arrived. Of their eight children, two died, one apparently at infancy, and the other at the age of 23.
It was their seventh child, a daughter Françoise, whose lineage led to our Clarice Bergeron.
1713 Françoise Buteau

m. Jacques Baudon* » Ignace

1743 Ignace Baron

m. Genevieve Baudon » Josephte

1771 Josephte Baron

m. Alexis Genest » Alexis [Jr]

1795 Alexis Genest [Jr]

m. Charlotte Aubin » Louise

1826 Louise Genest

m. Antoine Bergeron » Alfred

1847 Alfred Bergeron

m. Lucie-Marie Bibeau » Clarice

1870 Clarice Bergeron

m. Lazare Côté
1713 Françoise Buteau m. Jacques Baudon* » Ignace
1743 Ignace Baron m. Genevieve Baudon » Josephte
1771 Josephte Baron m. Alexis Genest » Alexis [Jr]
1795 Alexis Genest [Jr] m. Charlotte Aubin » Louise
1826 Louise Genest m. Antoine Bergeron » Alfred
1847 Alfred Bergeron m. Lucie-Marie Bibeau » Clarice
1870 Clarice Bergeron m. Lazare Côté
* Jacques was a son-in-law of our Filles ancestor
Marguerite Hiardin
, married 23 years earlier.
Sometime in November 1705 Pierre Buteau died for unstated causes. He was 68. He was buried at Saint-François, Québec. His marriage to Perrette endured 34 years — not bad, considering that it began when his age was also 34 years and exactly double her age of 17.
Perrette Loriot outlived most of her Filles sisters by at least 10 years. She was 75 when she died on November 13, 1730 and was buried at Berthierville, Québec. She had already been widowed for 25 years.