Epilogue
When the 1600s ended and the king's program to send the Filles du Roi had become little more than a footnote in history books, the statistics that remained made it all crystal clear: The Filles du Roi were magnificent women deserving ample recognition in the founding of our nation.
I'm delighted to have started this project with information that my father, Aime Thiévin, painstakingly gathered in his own quest to document our Côté history at a time before the internet existed. Like his own parents, he certainly had never heard of the Filles by the time of his death in 1987. My brother Tom said it in so many words, and so will I: If only this endearing man had lived long enough to discover our rich ancestral history, he would have been over the moon. Little else inspired him more than knowledge of our past and what it means to the world around us.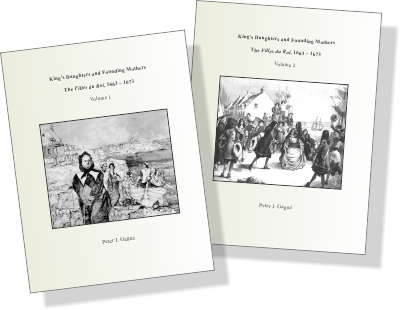 Unfortunately, at least for me, many reference materials were written and published in French, but one of the best English resources is King's Daughters and Founding Mothers, the Filles du Roi, 1663 – 1673, Volumes 1 and 2 by Peter J. Gagné. Sadly this book often appears as "out of print", although I still see it occasionally on lists of currently available titles. Its two volumes are the only comprehensive works in English on all 768 Filles du Roi with facts that came from birth and baptismal records, official censuses, government archives, and many other empirical works. If you are at all curious about your history, find a set of these and buy them! Much of the data in these books can't be found online, and what is online may not be as clear.
I have merely pieced together a small part of a much larger story. I've stolen with impunity from Mr. Gagné's book and a half-dozen others, from numerous sources, such as www.nosorigines.qc.ca and other online genealogy websites, so that we, the descendants of Lazare and Clarice Côté, have at least some idea about the lives of our amazing great-grandmothers among the famous Filles recruited and sent by King Louis XIV.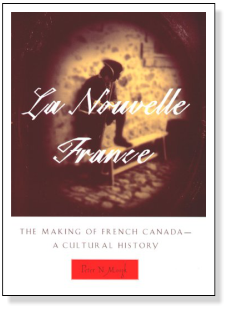 You might have noticed that I've relied on a few numerical statistics for the vivid picture they provide. So I must mention that since two of our 18 Filles ancestors died while giving birth, their premature deaths were anomalies that skewed the comparison with averages because two out of 18 is much higher than the overall ratio. (Similar birthing deaths among all 768 were actually fewer than 2 per cent — a much more realistic rate.)
And here's one final statistic: The sheer number of human beings propagated by our own Filles du Roi ancestors is staggering. Excluding all the others, our 18 alone produced 114 immediate children, an average of about six each and 42 others who did not survive to adulthood for reasons that we may never uncover. By the year 1730, roughly 50 years after their mothers' arrivals, those same surviving children had multiplied to 1,419. Today in the 21st century the number has reached some other immeasurable and astounding amount of more than two million for almost every one of our Filles du Roi grandmothers.
And speaking of procreativity, when my brother Tom researched the generations between Jean Jehan Côté and our grandmother Marie-Louise, I completely doubted that there were just nine generations as he'd reported. "That can't be," I argued. "Those people must have married younger than we do in modern times. You must have overlooked at least five generations," I insisted, applying my best logic.
But it turned out that I was completely wrong.
Over 10 months of research I checked hundreds of families and connections. I accounted for every single human who played a role in the creation of Marie-Louise and her siblings since Jean Jehan's arrival. And time after time I was amazed that we were the ones, in the 20th and 21st centuries, who procreated younger and faster. Over the 300-year period since the arrival of the Filles du Roi there were as few as six generations leading to the children of Lazare and Clarice. And since then there have been another six generations in just a third of the time, thus tripling the rate!
I should also mention that in researching our Côté lineage I've realized how simple and clearcut everything was in past generations and that the challenge for anyone who tries to research modern additions to our family genealogy will be monumental. Bewildering, ever-changing names, divided and mixed-parent families, non-families, ambiguous genders, same-sex unions, half-siblings with only one common parent — all have taken the structural picture of our original European culture to a place where no old-fashioned genealogist wants to go.
I will try to maintain this website for as long as it's possible, but nothing is forever. If you haven't already, I strongly urge you to register in the database on the homepage so that I can send you whatever printable documents might be prepared in the future. With those, future generations might store and reflect on the details of their own historical paths since the settling of Canada.
---
Are you among us?
If you're a descendant of Lazare Côté and Clarice Bergeron, then you absolutely have something in common with Hillary Clinton, Angelina Jolie, and others! While it's not likely to help your resumé, you might at least get your pin and certificate as I have. Both Canada and the US have official societies for descendants of the Filles du Roi. I suggest you join one or more of these organizations.
1. Québec's SHFR (Société d' Histoire des Filles du Roy) is a French-only organization. Unless you have acceptable French skills, you might find it hard to communicate and you could be helpless to participate in their activities. They do not appear to sell memorabilia items or certificates for FDR descendants.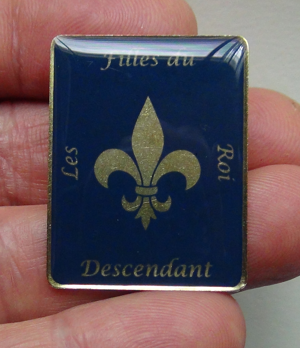 2. The AFGS (American-French Genealogical Society), while not patriotically Canadian, appears to be much friendlier to FDR descendants speaking either English or French. This organization has a huge library and a worldwide member base. It also issues certificates to those who prove their lineage. I was able to buy some used books online with this organization. Using the lineage of Élisabeth Aubert to chart and prove my own lineage, I was also able to purchase a lapel pin and a certificate that authenticates my own FDR descendancy. Please contact me if you need help with dates or names.
3. There is also La Société des Filles du Roi et Soldats du Carignan, likewise an American organization with an English website, that appears to place emphasis on the soldiers who were central in the story of colonization. Only three of our Filles ancestors (Doribeau, Lamain, and Halier) actually married soldiers of the Carigan-Salières Regiment. It appears too, that this society has certificates but not lapel pins.
There is a lot of fascinating detail I have not covered about each of our 18 Filles ancestors. Google any of them and you will probably read for hours, although not everything you'll find is completely factual. There have been many unconfirmed embellishments — usually good — on their lives that I have not mentioned because I've tried to stick with as many sourced facts as possible. And in an effort to make it interesting, I've avoided some insignificant stuff, but there may be other important facts I should have mentioned.
Regardless, if you have arrived on this page, I must presume that you care about your ancestry and that I have done my job. I sincerely hope you will do what our government is not doing, and that is to teach your family about the founding mothers and fathers of Canada, especially since their blood runs in our veins. Do whatever you can to preserve our European heritage in Canada. It was the sacrifices and the hard work of those very people who created the country we are enjoying today.
I also ask that you send me anything new that you might uncover.