Catherine Doribeau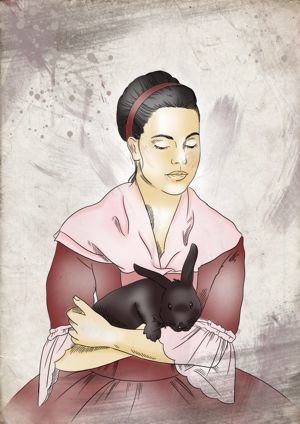 Catherine Doribeau dite Doribelle is believed to have been born December 11, 1650, the daughter of Michel Doribeau and Antoinette Louvie. Her likely origin in France is Fors, Notre Dame where a record was found showing the baptism of her brother.
Catherine is among those considered to be an authentic Filles du Roi today perhaps because there is a record that she collected the king's first payment that provided for receipt of her trousseau and the cost of her travel from Paris to Dieppe, the port of departure. It's also known that she completed her Atlantic voyage aboard Le Saint-Jean-Baptiste in the company of 131 other Filles du Roi among four others who would all become our ancestors. When the ship arrived in Québec City on June 30, Catherine was received by the Ursuline monastery where she would stay until she chose a suitor.
As likely as it was with Renée Chanfrain, the sisters of the Ursulines might have done their best to align Catherine with someone who held the most promise for a secure and long union in the new colony. By separating the women in three different rooms, it appears they held some control over who they thought were the best suitors based, presumably, on some amount of worldly wisdom. The likelihood is that many of the teenaged Filles were naïve, and if so, the nuns may have been entirely pragmatic.
A 29-year-old Jacques Genest dit Labarre, was born April 17, 1640 in Juigne sur Loire, in France, the son of Rene Genest and Renée Richard. We know that he was a skilled taillandier (toolmaker) who had landed in Canada four years earlier on August 17, 1665 when he arrived as a soldier with the La Fredière Company of the Carignan Regiment. When peace was established with the Iroquois in 1668 and Louis XIV ended military occupation, 450 soldiers remained to become colonists in the France's newest territory. The king's decision to send marriageable women was planned in an effort to keep the new colony alive, and if the men of the regiment had a reason to stay, it would certainly give France a better claim over the territory.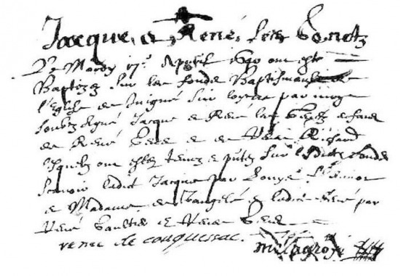 Jacques had bought a farm on the Saint Lawrence River in March 1666 in the parish of Saint-Famille on the Ile d'Orleans. Altogether it consisted of a house, yard, garden, a bread oven, a small barn, and about five acres of cultivated land. Since Jacques could neither read nor write, the purchase contract was signed by the tinsmith and a notary. Jacques continued to work at his trade, and in 1667 he increased his land under cultivation but still did not have any livestock.
In 1669, his 29th year, Jacques Genest was having difficulties. He lost his farm due to debts. The records also reveal that he sired a child out of wedlock, but not with Catherine Doribeau and perhaps before he even met her. (That child was likely born in 1670 and had died before the next census.)
To put their relationship in context, we know that Jacques also met Catherine Doribeau in 1669, but we only know that he entered the picture sometime after her landing date. Historians are likewise in the dark about their marriage date since the contract was never located. Extrapolating from the 1681 census, Jacques' age was 30 when they married. Catherine had turned 20. Their wedding ceremony occurred on the Île d'Orléans, and the couple then settled in Sainte-Famille, Québec. It's noted again in Gagné's book that neither Jacques nor Catherine was educated sufficiently to sign the official document.
Things began to turn around for Jacques and his new wife. In February 1671 they regained the farm he had lost when it was redeeded to him in an act of generosity. It appears that this is where Jacques and Catherine would raise their family.
Their first children were twins Marie and Marie-Anne, but burial records show that Marie-Anne died within the same month of her birth. Catherine and Jacques raised at least five and possibly six children to adulthood, four who appear in the records with their own families to succeed their parents. The official count of the family's children was eight, but it was their second, Jacques Genest Jr., born January 24, 1673 at Sainte-Famille, who would continue the branch leading to Grandmother Bergeron.
1715 Jacques Genest [Jr]

m. Louise Godin » Joseph

1739 Joseph Genest

m. Charlotte Marion » Alexis

1771 Alexis Genest

m. Josephte Baron » Alexis [Jr]

1795 Alexis Genest [Jr]

m. Charlotte Aubin » Louise

1826 Louise Genest

m. Antoine Bergeron » Alfred

1847 Alfred Bergeron

m. Lucie-Marie Bibeau » Clarice

1870 Clarice Bergeron

m. Lazare Côté
1715 Jacques Genest [Jr] m. Louise Godin » Joseph
1739 Joseph Genest m. Charlotte Marion » Alexis
1771 Alexis Genest m. Josephte Baron » Alexis [Jr]
1795 Alexis Genest [Jr] m. Charlotte Aubin » Louise
1826 Louise Genest m. Antoine Bergeron » Alfred
1847 Alfred Bergeron m. Lucie-Marie Bibeau » Clarice
1870 Clarice Bergeron m. Lazare Côté
The details of the census of 1681 suggest that the Genest family had done fairly well, better than many others who were eking out a living in New France, and likely in part perhaps because of Jacques' acquisition of the property. It states that Genest owned 1 gun, 8 head of cattle, and 15 arpents (about 12 acres) of cultivated land. The 1681 census also indicates there were six children living in the house at the time and that he was 45 years old and his wife was 36.
Jacques, and presumably Catherine, sold the land and homestead in August 1688. Jacques was planning a return to France, but we have no idea if it was simply to visit or if there were other long-term plans. The terms of the sale allowed the family to stay on the property for some time after the sale. Where the family lived after the new owner eventually took possession of the homestead is not known.
In spite of their challenges, the couple appears to have had a long and successful marriage, like almost all of our Filles du Roi ancestors. And if those families constituted the average, then their marriages were likely similar to many in the colony.
Jacques Genest died at the home of his son Charles in December 1706 and was buried the next day at Saint-Jean, Île d'Orléans. He was 66 years old. Catherine Doribeau died four years later at Montmorency, Québec on February 25, 1710. She would have been 65 years old.
Ancestry.com states that the original family house, now Lots 195 and 197 near the church in Saint-Famille at Saint-Jean, is still standing and restored by a Genest descendant.