Catherine Laîné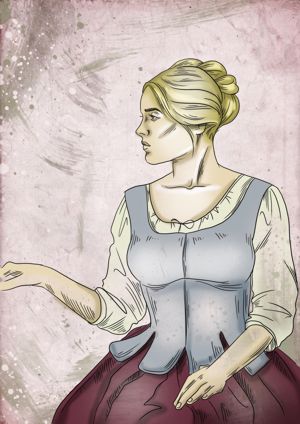 Catherine Laîné (also known as Laisne), like so many other colonial women who gave birth to 10 children, could tell a story that would be entirely remarkable in today's world, yet it's unlikely that her life was anything exceptional in the squally 1600s. She was just doing what normal people did.
Catherine was baptized February 6, 1654 in the parish of Sainte-Croix-des-Pelletiers in Rouen, Normandy, the daughter of Jean Laîné and Marie Renault. In the spring of her 17th year she prepared to leave her homeland for New France and made the short journey from Rouen to Dieppe. Since her home was near the area where Madeleine Auvray originated and she appears to have boarded the same ship in 1671, it's entirely possible that they travelled together or were at least acquainted prior to leaving France.
In Catherine's possession was the trousseau awarded by the king packed with goods as her dowry whose worth she estimated was 300 livres. Along with about 90 other Filles du Roi was another teenaged girl who would likewise appear among our ancestors, Perrette Loriot. And they must have boarded Le Prince Maurice that spring, like hundreds of others before them, with mixed feelings of hope and apprehension.
In the long journey across the Atlantic, we can only imagine the discussions that ensued among so many like-minded women who had no way of knowing how their decisions to leave France would affect them. Their fates until now had been in the hands of the king's representatives who had explained what to expect. But how could they possibly have understood? Everything about their lives until departing France had occurred solely for the benefit of their wisdom in the future. They would take those mental images to a new world where they might be recalled, but they would never return to revisit their girlhood memories.
The ship arrived in Québec City in mid-summer. For the eighth year in a row, Québec City residents would have lined up to welcome these same sea-weary ships from the motherland, loaded with human cargo and tonnes of goods needed by the colonists of New France. And as usual, the enfeebled Filles du Roi who survived the passage would have been met by the Ursuline nuns for the next stage in what could only have been a most unpredictable rite of passage.
On October 21, less than three months after her arrival, notary Romain Becquet drew up a marriage contract between Catherine and a man named Jacques Bluteau that was annulled almost as quickly as it began. There were no children. Clearly the Catholic custom of the day left liberties to dissolve marriages that were mutually ill-decided. Perhaps it was a blessing for both of them.
Étienne Mesny was born about 1646 in Mesnières-en-Bray, Normandy, the son of Jean Mesny and Marie Cané. He appears in the official census of 1666 as the servant-labourer of Jean Gagnon at Beaupré, Québec. Before meeting Catherine, he had also annulled a marriage contract that he had drawn with a woman named Charlotte Godin, endorsed in the prior year by notary Claude Aubert.
Étienne was persistent in his quest to find a good woman. While it's less likely that they met at the convent of the Ursulines, he and Catherine Laîné obviously crossed paths and soon reached an understanding before the wrath of Québec's winter had arrived. On November 23 of the same year, 17-year-old Catherine married 25-year-old Étienne at Sainte-Famille, Île d'Orléans, Québec and was given the king's gift of 50 livres, likely in the form of livestock and supplies they needed to begin the 23 years they would spend together. Neither spouse was literate enough to sign, although the actual marriage contract was never located to refute this.
Catherine and Étienne first settled at Sainte-Famille where three daughters were born in succession, the third named Catherine after her mother. But the plot thickens. The family then relocated to Saint-François, Québec where six more daughters and a son were born within a 14-year period. The records indicate that two of these did not survive childhood.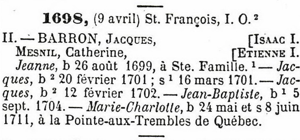 For some confounding reason, one of the later daughters was also named Catherine, endowing two living siblings with the same name, albeit they were 14 years apart. One explanation might be that the older Catherine had always been informally known by a different name when the younger Catherine was born. Luckily the marriages of early Canadians inextricably bound them to their new families in the records, and there were rarely problems for genealogists in later centuries. In the purest coincidence it was the marriages of both Catherine Mesnys in this family and the children of those marriages whose lineages directly connected Clarice Bergeron to one, and Lazare Côté to the other, in associating our family with their Fille du Roi mother of the same name. If the thought prevails that this would mean there was a blood relationship between Lazare and his wife Clarice, it is absolutely true, but that relationship would not be consanguineous. (See the family tree page for explanation.)
1698 Catherine Mesny [1]

m. Jacques Barron » Ignace

1743 Ignace Barron

m. Genevieve Baudon » Josephte

1771 Josephte Barron

m. Alexis Genest » Alexis [Jr]

1795 Alexis Genest [Jr]

m. Charlotte Aubin » Louise

1826 Louise Genest

m. Antoine Bergeron » Alfred

1847 Alfred Bergeron

m. Lucie-Marie Bibeau » Clarice

1870 Clarice Bergeron

m. Lazare Côté
1698 Catherine Mesny [1] m. Jacques Baron » Ignace
1743 Ignace Baron m. Genevieve Baudon » Josephte
1771 Josephte Baron m. Alexis Genest » Alexis [Jr]
1795 Alexis Genest [Jr] m. Charlotte Aubin » Louise
1826 Louise Genest m. Antoine Bergeron » Alfred
1847 Alfred Bergeron m. Lucie-Marie Bibeau » Clarice
1870 Clarice Bergeron m. Lazare Côté
1709 Catherine Mesny [2]

m. Nicolas Croteau* » Marie-Anne

1743 Marie-Anne Croteau

m. Jean-François Sevigny » Catherine

1780 Catherine Sevigny

m. Michel Charest » Joseph

1807 Joseph Charest

m. Marguerite Aubin » Marie-Desanges

1845 Marie-Desanges

Chaurette m. François Côté » Lazare

1870 Lazare Côté

m. Clarice Bergeron
1709 Catherine Mesny [2] m. Nicolas Croteau* » Marie-Anne
1743 Marie-Anne Croteau m. Jean-François Sevigny » Catherine
1780 Catherine Sevigny m. Michel Charest » Joseph
1807 Joseph Charest m. Marguerite Aubin » Marie-Desanges
1845 Marie-Desanges Chaurette m. François Côté » Lazare
1870 Lazare Côté m. Clarice Bergeron
* The Mesny/Croteau marriage appeared earlier under
Jeanne Godequin
since a child of one Fille du Roi who was our ancestor married a child of another ancestral Fille du Roi. Their overall lineage differs.
Étienne Mesny died September 28, 1693 at the hospital Hôtel-Dieu de Québec at just 47 years old, two months after Catherine gave birth to his 10th child. We have no information to tell us how she and roughly six children still at home survived without Étienne's contribution as the official breadwinner, but they did, undoubtedly on the strength of the glue that held all families together in those days with no help from the state.
Sixteen years later on May 23, 1709, and at the age of 55, the widowed Catherine was remarried to 53-year-old widower Jean Paré in Sainte-Famille, Québec, three weeks after the marriage of her daughter Suzanne Mesny. Four remaining children of Paré's first marriage were amalgamated into the new family that also included Catherine's two remaining children. Tragically, just two days after Catherine Laîné's remarriage, her newly married daughter Suzanne died (for reasons not readily available).
Predictably, Catherine Laîné and Jean Paré did not have any children. Catherine Laîné died six years later in January 1715 at just 61 years of age, slightly younger than the norm for her entire Filles du Roi counterparts.