Élisabeth Aubert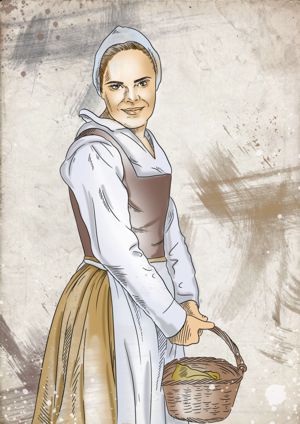 In the following year, three more Filles du Roi who would become our great-grandmothers arrived in Québec City aboard the same ship, the Saint Jean-Baptiste. The first was Élisabeth Aubert whose baptismal record reflects the year 1646 in the parish of Saint-Sulpice in Paris, and we must assume that was very near her date of birth. She was the daughter of Michel Aubert and Jeanne Aubeau. She is sometimes described as an orphan, but there is no information about her actual age when her parents died. [Note: Roughly 60% of all Filles decided to come to Canada after losing at least one parent. Since most came as adults, it becomes debatable whether the title 'orphan' refers to a loss of parents as children or as adults.]
Still in her early 20s, Élisabeth heard of the king's program or her name was forwarded by her parish as a suitable candidate. No doubt she envisioned an opportunity like all Filles — free passage to a new land, a choice of whom to marry if she so desired, and the king's gift if she did. She would have used the travel cost allotment she received to get from Paris to Dieppe where she departed France, bringing her only dowry, essentially the trousseau and remnants of her personal possessions worth an estimated 200 livres. She would be joining well more than a hundred other young women who shared the same hope and the same dream.
The ship departed on an unrecorded date and landed in Québec City probably on July 31, 1670 or perhaps later. Upon arrival there were an estimated 119 other courageous Filles remaining, but there had almost certainly been more than this number to start. Using the averages stated in virtually all the records, as many as a dozen would have perished before landfall from dysentery, scurvy, and other infectious diseases that arose from malnutrition and poor sanitation. For most it must have been a living hell and a huge price to pay for their audacity.
As it was for most Filles du Roi, the man Élisabeth would choose among those who came to the Ursulines was a settler who had arrived from France sometime earlier. Aubin Lambert's records show that he was baptized June 30, 1632 in the parish of Saint-Aubin in Tourouvre, Perche, in France. He was the son of Odard Lambert, a plowman, and Jacqueline Feillard. Reflecting the deeply religious sentiments of the day, Aubin had been named after the patron saint of this parish. He also had a dit surname, Champagne. Aubin probably landed in Canada shortly before 1662, about eight years before Élisabeth. Undoubtedly he was also a man in search of a prosperous life in the new world.
On September 29, 1670, just two months after her arrival, Élisabeth married Aubin Lambert at Québec City, and she is verified to have received the king's gift of 50 livres. In today's terms, that might have been equivalent to a thousand dollars. (For some further comparison, consider that a reputable doctor in those days earned about 75 livres per year).
We will never know how many Filles brides and their new husbands actually received cash, or for that matter, if any received cash at all. The literature reveals that most of the king's promised amounts were paid in kind, meaning that the dowries were meted out in other forms. After a marriage was consummated, couples received an ox, a cow, two pigs, a pair of chickens, two barrels of salted pork, and just 11 livres in actual money to start their new families. For many, the chattels would have equated to a small lottery and would have dramatically helped in surviving their first winter as a new family.
Not many European settlers in the 17th century knew how to read or write, and consequently neither Élisabeth nor Aubin could sign the marriage contract drawn on September 4 by notary Romain Becquet. Still their marriage was official and so their new lives began. The couple first settled at Saint-Augustin, just west of Québec City. They eventually moved across the St. Lawrence River to Saint-Nicolas near Levis, Québec.
The King of France had a further incentive to encourage population growth: He paid an additional pension of 300 livres annually to families with 10 children. Within 18 years the Lambert family had reached the magic number, excluding their second child who appears to have died very young. (Was this the beginning of Canada's Family Allowance program?)
It was their fifth child, Michel Lambert, a son born in 1680 who would continue Élisabeth Aubert's lines to Lazare Côté.
[Note the modified spellings of Choret / Charest / Chaurette over four generations. Obviously there were no orthographical rules, even for official identification. Luckily the records carefully tracked each person along with parents and included both spellings if there was a change.]
1708 Michel Lambert

m. Louise-Catherine Garnier* » Françoise-Michelle

1740 Françoise-Michelle

Lambert m. Jean-Joseph Choret » Michel

1780 Michel Charest

m. Catherine Sevigny » Joseph

1807 Joseph Charest

m. Marguerite Aubin » Marie-Desanges

1845 Marie-Desanges

Chaurette m. François Côté » Lazare

1870 Lazare Côté

m. Clarice Bergeron
1708 Michel Lambert m. Louise-Catherine Garnier* » Françoise-Michelle
1740 Françoise-Michelle Lambert m. Jean-Joseph Choret » Michel
1780 Michel Charest m. Catherine Sevigny » Joseph
1807 Joseph Charest m. Marguerite Aubin » Marie-Desanges
1845 Marie-Desanges Chaurette m. François Côté » Lazare
1870 Lazare Côté m. Clarice Bergeron
* Louise Catherine Garnier, also known as Grenier, was a child of Isaac-Joseph Garnier's first marriage discussed below under Madeleine Auvray.
There is a CBC-produced vignette featuring realistic scenes of the Filles du Roi in a 45-minute documentary on Canada's beginnings. The production and the acting is splendid. (View it free of charge on the CBC website.) The documentary features the arrival and marriage of Élisabeth Aubert. Although they state that she was two years older than we've gleaned from credible records, all other details align with those of most notable historians.
Élisabeth Aubert died October 4, 1690 at the Hôtel-Dieu de Québec, which was not a hotel at all but a hospital. She was just 44 years of age. No cause of death appears in the records , but considering that she was outlived by all but one of her 17 Filles peers, it's logical that there were extenuating circumstances. Her husband Aubin Lambert lived to the age of 81. He was buried in 1713 at the newly-built church of Saint-Nicolas at Lévis, Québec.