Marguerite Foy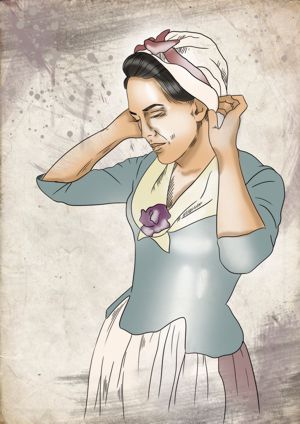 The following summer after Andrée Remondière's arrival, two more Filles arrived whose contributions to our Côté family bloodlines were significant. The first was Marguerite Foy who came from the Poitou region of France. She was born in about 1638 to parents Pierre Foy and Catherine Blanchard. It wasn't until she was 29 that she was interviewed for the Filles du Roi program and made the choice to leave France. No doubt about it, she wasn't getting any younger, and a surplus of marriageable men were waiting to meet women willing to share their adventures in an untamed land. She prepared her trousseau that included a dowry worth an estimated 200 livres and set aboard La Constance de Cadix at La Rochelle in eastern France in the spring of 1667. Marguerite and just 12 other official Filles made the passage on that ship, arriving in Québec City at the start of summer. On the very day she landed in Québec, Catherine Vieillot, who would be next to arrive, was setting sail from Dieppe in France.
Commonly men who had arrived from France were under contract as engagés, or contract labourers. They were, in essence, farmhands, and they were hired in France by the Compagnie des Cent-Associés to work in Canada under a three-year contract. They might also have come at the invitation of settlers who landed before them for the same purpose. They typically received the cost of their passage from France, a small salary, and room and board. At the end of the contract they had the choice of returning to France or staying to clear land where they could develop their own homes and farms. And there were also the soldiers of the king's Carignan-Salières Regiment of whom 450 remained after peace had been established with the Iroquois.
A man named François Dumas appears in the 1666 census of New France. He was from Angoumois in the old country, the son of François Dumas Sr. and Anne Rollin. Now he was an engagé and a stonemason working for a landowner named Claude Charron. We can only assume that François continued his occupation into later years.
No doubt the 27-year-old was hopeful that he would find a wife among the new arrivals, but he might not have expected that so few would land on June 10, 1667. Perhaps he looked unsuccessfully among Filles who arrived on earlier ships. Regardless, it no longer mattered when he met Marguerite Foy at the home of the Ursuline nuns. There must have been good karma because less than a month had passed when they attended the office of notary Gilles Rageot in Québec City to draw a marriage contract. It was July 5. Neither Marguerite nor François could read or write, so the notary signed for them. The records do not specify that they received the king's additional gift of 50 livres. Perhaps that notation was simply overlooked.
The couple settled at Saint-Jean, Île d'Orléans. In the 11 years from 1669 and 1680 they had seven children — a huge family today, but arguably normal in the 17th century. There are no references in the records, remarkably, to suggest that a single child did not survive. If it's true that none died, we're left to wonder what Marguerite and François did that made them different from hundreds of other families among the colony who were less fortunate.
It was their second son, Charles Dumas, who carried Marguerite Foy's genes to subsequent generations that would include our grandfather, Lazare Côté. Charles married the daughter of our Filles ancestor Renée Chanfrain. The lineages that follow from that couple to Lazare are therefore identical.
1712 Charles Dumas

m. Marthe-Madeleine Garand » Genevieve-Marthe*

1736 Genevieve-Marthe

Dumas m. Charles Chaine » Felicite

1765 Felicite Chaine

m. François Croteau » Pelagie

1791 Pelagie Croteau

m. Charles Côté » François-Xavier

1816 François-Xavier Côté

m. Rose Marion » François

1845 François Côté

m. Marie-Desanges Choret » Lazare

1870 Lazare Côté

m. Clarice Bergeron
1712 Charles Dumas m. Marthe-Madeleine Garand » Genevieve-Marthe*
1736 Genevieve-Marthe Dumas m. Charles Chaine » Felicite
1765 Felicite Chaine m. François Croteau » Pelagie
1791 Pelagie Croteau m. Charles Côté » François-Xavier
1816 François-Xavier Côté m. Rose Marion » François
1845 François Côté m. Marie-Desanges Choret » Lazare
1870 Lazare Côté m. Clarice Bergeron
* The Dumas-Garand marriage appears again under
Renée Chanfrain
since a child of one Fille du Roi who was our ancestor married a child of another ancestral Fille du Roi, except that Charles Dumas and Marthe-Madeleine Garand came from separate Filles parents.
The marriage of Marguerite and François endured 47 years — proving once again that for nearly all of our ancestors, only death got in the way of lifelong companionship.
As discussed on an earlier page, there is an annoying theme perpetuated today without a single bit of proof that marriages of the Filles du Roi, and presumably other women of the colony, were painful exercises in patrimony and misogyny. Since there isn't a sliver of evidence that it was so, I prefer to believe that the marriage of Marguerite Foy and François Dumas exemplified that of my own parents, filled with love and mutual respect over nearly a half-century.
Marguerite was widowed when 74-year-old François died in 1714 of a stated "indigestion". On January 12, 1718, about four years later, Marguerite died of unstated causes and was laid to rest at Saint-Jean, Québec. She was 80 years old. What Foy and Dumas could never, ever have imagined is that today their direct descendants now number more than two million!