Madeleine Auvrey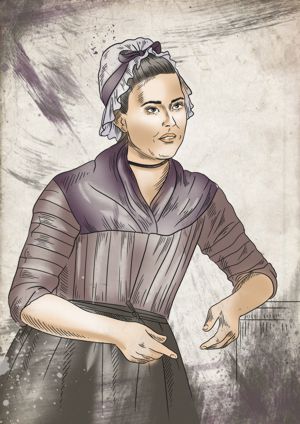 Although the king's program endured two more years, 1671 was the seventh and final year that women who arrived among the 768 Filles du Roi would unknowingly play roles in the matriarchy of our Côté family tree. Marie-Madeleine Auvray was 15th among those to whom we are indebted.
She was born in 1652 in Rouen, Normandy to Antoine Auvray and Marie LeNormand. After her father's death, Madeleine must have been seen by her parish as a suitable participant and recommended for King Louis XIV's program to travel to New France. There was no mistaking the hope that she would consider marriage to a French subject in Québec, and in so doing she would be helping the colony's survival. But she would be free to marry as she wished, and that was a privilege, say historians, that she might never have had in France. Like others, she must have viewed the royal offer as a rare opportunity and prepared to leave.
Living in Rouen gave Madeleine an advantage of convenience — the departure port of Dieppe was only 65 kilometres away. She collected her official disbursement, and along with at least 90 others she boarded Le Prince Maurice heading west across the vast Atlantic. The personal goods constituting her dowry, she estimated, were worth 300 livres. There may have been more than 90 hopeful Filles du Roi aboard her ship, but researchers were never able to determine how many perished in each of the voyages.
Arriving in Québec City in mid-summer, she and many of her young, fellow Filles must have surely thought they had come to a beautiful land. Some may even have overlooked what they'd been told about Canadian winters. Regardless, their feelings must have included some optimism and a sense of freedom in starting their new lives. In Marie-Madeleine's case, it would have been a good omen.
Nicolas Matte was likely a handsome and ambitious young French settler to Canada. He had been baptized in France on December 4, 1636 in Sainte-Geneviève-en-Bray, Normandy, the son of Charles Matte and Barbe Horace (or Harache). At some point before he left France, his family had relocated to the parish of Saint-Cyr near the coastal port city of La Rochelle.
No record appears to exist of his voyage from France, but Nicolas was on the soil of "New France" sometime before the census of 1666 since he appears there among a total colonial population of just 3,215. His location was noted as Notre-Dame-des-Anges, Charlesbourg, in what would become Québec. In 1670 on September 5, he leased a plot of cultivated land of five arpents and a cabin at Domboug (Neuville) from a miller, Pierre Lafine, for a period of three years. It's easy to imagine that he might have been preparing for marriage.
On October 12 and barely two months after her arrival, 19-year-old Madeleine Auvray and 34-year-old Nicolas Matte had met, fallen in love, and agreed that they should spend their lives together with a common purpose. They married at Notre-Dame de Québec, receiving the king's gift of 50 livres in kind. Unable to read or write, she could not sign the marriage contract drawn two days previously by notary Romain Becquet, but Nicolas could, apparently, since his signature appears on the archived document.
Unlike many other men of the colony, Nicolas Matte seems to have been organized and prepared for his future. The new couple settled at Neuville on a land parcel that was granted by Jean-François Bourdon, Seigneur de Dombourg on May 31, 1672. It does appear that they spent their entire lives on the same property, very likely farming the land with their growing family as was commonly done by habitants. Here they raised their children and provided years of security for subsequent families who might one day take over.
It's clear that Nicolas and Madeleine were somewhat of a model couple with a sound start not afforded to others. While two of their children did not survive their youth, nine others did, and the final child, Marie-Angélique, born June 22, 1697, created another genealogical branch to Clarice Bergeron.
1717 Marie-Angélique Matte

m. Isaac-Joseph Grenier » Marie-Agathe

1747 Marie-Agathe Grenier

m. Charles Houde » Marie-Josephte

1784 Marie-Josephte Houde

m. Pierre Bibeau » François-Xavier

1821 François-Xavier Bibeau

m. Marie-Julie Croteau » Lucie-Marie

1847 Lucie-Marie Bibeau

m. Alfred Bergeron » Clarice

1870 Clarice Bergeron

m. Lazare Côté
1717 Marie-Angélique Matte m. Isaac-Joseph Grenier » Marie-Agathe
1747 Marie-Agathe Grenier m. Charles Houde » Marie-Josephte
1784 Marie-Josephte Houde m. Pierre Bibeau » François-Xavier
1821 François-Xavier Bibeau m. Marie-Julie Croteau » Lucie-Marie
1847 Lucie-Marie Bibeau m. Alfred Bergeron » Clarice
1870 Clarice Bergeron m. Lazare Côté
[Marie-Angélique Matte, at 20 years old, married Isaac-Joseph Garnier, a 53-year old widower who'd already had 11 children with his first wife. Five of them were older than Marie-Angélique and possibly no longer living at home. Marie-Angélique and Isaac-Joseph had two children, the first of whom would carry her notable mother's genes forward to Grandmother Clarice.]
Madeleine was widowed when Nicolas Matte died of unstated causes at age 68. While it may have been common for widowed women of the colony to remarry even in their 50s, she remained single another 30 years. She died in 1734 when she was about 82 years of age and was perhaps the longest living of all of our related Filles du Roi. Madeleine Auvray was buried at Neuville on May 7.