The family of Lazare Côté and Clarice Bergeron
Hundreds of our ancestors in the 17th century who played a role in establishing Canada were from the Lotbinière municipality in Québec. Most began as settlers who were domestic servants of land owners on the banks of the St. Lawrence River in the early-to-mid 1600s. They were hardworking and relatively poor people. Some would eventually acquire their own tracts. By the 19th century, populations were much greater, and when work was scarce or it became harder to own land, they simply started looking elsewhere.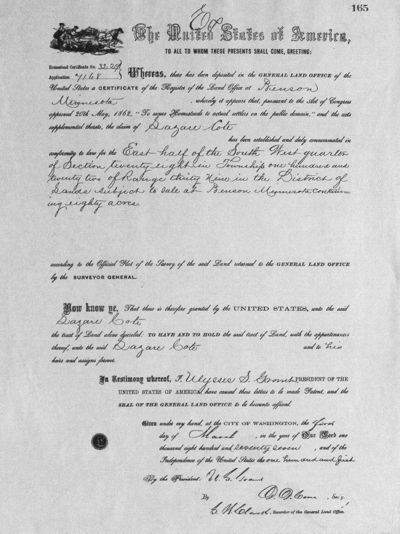 Lazare Côté, born in Ste-Croix, Lotbinière, and Clarice Bergeron, born nearby in St-Antoine-de-Tilly, Québec, married at an average age — 21 and 19 respectively. It was June 20, 1870. Many Québécois had begun moving west in search of homesteads, and in 1877 Lazare with Clarice with their four children and Lazare's parents made a 2,500-kilometre journey by horse and wagon to Benson, Minnesota. The trip must have taken forever.
By 1889 the number of living children had increased to 11 plus two others who appear to have died either as infants or as toddlers. Clearly the family's small homestead did not provide adequately and work was getting hard to find. Lazare's parents remained at the Minnesota homestead, but Lazare and Clarice made the difficult decision to move their family more than 300 miles northwest to Olga, North Dakota, presumably in the spring when Malvina was a newborn. Here Lazare and perhaps his growing teenage sons might find work that could secure the family and hold promise for the future. There were more births to come. It was here in Olga that my grandmother, Marie-Louise, and her brother Ulric were born.
Alas, moving to Olga did not improve the family's prosperity as hoped. By 1894 Lazare felt it was necessary to move the family again, this time just 30 miles northwest to Wales, North Dakota where their final child Clarice was born in 1894.
Astounding as it seems, since leaving Québec 17 years earlier, this huge family eked out an agricultural living in at least four locations. In fact the entire complement of 16 children never existed at one time. At just 20 years old, the second-oldest daughter Anna died in childbirth before her two youngest siblings were born. Mary, the oldest of the family, now married with three children of her own, died of cancer in 1896, the same year that her baby sister Clarice died tragically in a scalding accident on a day when the family was slaughtering chickens.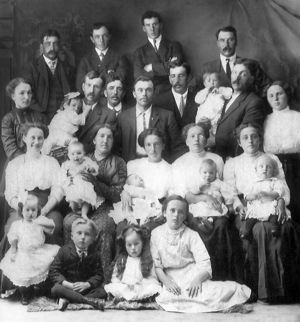 In 1900 when Lazare heard there were Western Canadian homesteads available, he was itching to move once again. The 49th parallel had been declared the official border, and his Canadian citizenship made it a simple matter when he chose to settle near Alma Post Office a few miles from present day Forget, Saskatchewan. At $10 apiece, Lazare and his boys each bought a homestead for a total of seven.
Mrs. Côté, however, was having nothing to do with another sod house and remained in North Dakota until Lazare would prepare a house built of wood — logs, in fact, harvested from the homestead. It took until 1902 for him to fulfil his promise when he evidently fetched Clarice for the start of her life in the first 'modern' home she would enjoy since their marriage began 32 years earlier. During those 32 years she had given birth 16 times and endured 12 solid years of pregnancy in sod homes or other unknown dwellings that no doubt would have been regarded as unbearable and unliveable by today's standards.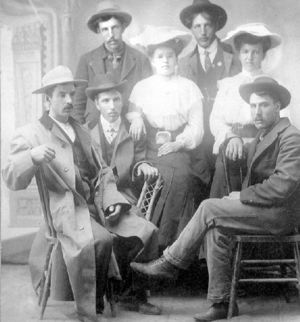 Now 25 years had transpired since their departure from Québec. Lazare celebrated his 53rd birthday. He and Clarice had begun farming in what would become the nation's great breadbasket, just like thousands of others who were arriving on the Canadian prairies, mostly from European countries. For sure life had improved, but it still had hardships. Thousands of Canada's precious pioneers still died of hypothermia, infectious disease, and farming-related injuries — all conditions that would be largely avoidable today. There is no question that modern generations owe those people everything.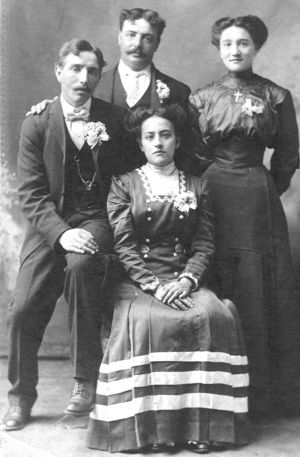 Lazare died in 1914 when he was 65. Clarice died six years later in 1921 when she had reached 70. They were both laid to rest at the cemetery in Lampman, Saskatchewan.
Their surviving children collectively gave birth to 77 more children, averaging about 6.5 births per family. The largest family among them belonged to my grandmother Marie-Louise Côté whose union with French immigrant Louis Thiévin resulted in 13 children. Eleven of those reached adulthood and married despite systematic hardships of early prairie life. Unsurprisingly those children also raised larger-than-average families in the 1950s and '60s.
The 16 children of Lazare and Clarice Côté
Mary (Marie)*, 1871-1896
Anna*, 1872-1892
James, 1874-1929
Jenice*, 1875- ?
William, 1876-1951
Albert, 1877-1957
Norbert**, 1878- ?
Onesime, 1879-1931
John, 1881-1962
(Joseph) Alfred, 1883-1936
Zenaide (Marie), 1885-1975
(Joseph) Mathias, 1887-1976
Malvina, 1889-1967
Marie-Louise, 1891-1974
Ulric, 1892-1963
Clarice*, 1894-1896