Renée Chanfrain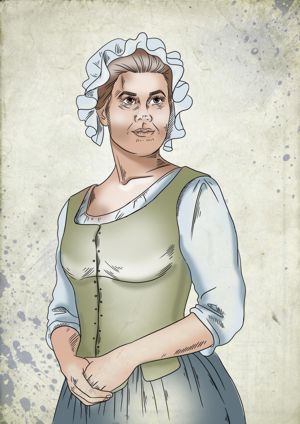 Five of our Filles du Roi ancestors arrived in Canada in 1669, four of them among more than 130 others aboard a ship that made a spring departure and landed at the end of June. Renée Chanfrain (also Chamfrain) was among them, but of course none would have the vaguest inkling how much they would have in common in centuries to come.
She was born to Vincent Chanfrain and Marguerite Le Breton in about 1644 in the Faubourg Saint-Marceau section of Paris. Upon her father's death, Renée was probably recommended by her church for the king's program for passage to the new colony. Once approved, she received the first disbursement that afforded her travel costs to the coastal port of departure. She left for Canada with her trousseau and dowry worth an estimated 200 livres.
Based on the historical data, Renée travelled with her fellow Filles du Roi aboard the tall-masted vessel Le Saint-Jean-Baptiste that brought them to the New World, including our ancestors Catherine Doribeau, Jeanne Godequin, and Perrette Halier. By far the majority of women chose to stay in Québec City rather than reboard the ship for new uncertainties in Trois-Rivières or in Montreal. Perhaps 10 of their travelling companions — but maybe more — simply never got to choose. They died from disease in the squalid conditions aboard the ship and were quietly disposed of enroute in the dark of night, undoubtedly to obscure for others the horror of seeing the bodies of their peers descend to watery graves.
Once the Filles landed and were in the hands of the Ursuline nuns, they were nourished back to good health. In the relative safety of the large residence on the grounds of the convent, Renée would have been introduced to few, or to many, potential husbands. The man who most appealed to her was approximately equal in age and undoubtedly piqued her fancy for what she regarded were the best reasons. Based on the dating procedures described in the literature, it's possible that the Ursulines selectively "matched" them when he arrived at the convent for his opportunity to meet a woman who would share his adventure in the New World.
Pierre Garand was born about 1645 in Sainte-Croix-des-Pelletiers in Rouen, Normandy, the son of Charles Garand and Anne Maillet. He appeared in the official 1666 census of New France as the indentured servant of Pierre Niel, but no other information about his occupation appears in the records. In a similar fashion to other Filles who married post-haste, Renée Chanfrain and Pierre Garand signed their wedding contract in Sainte-Famille, Île d'Orléans and received the king's gift of 50 livres in value on October 7. They were both 25 years old. Neither could sign the document that was drawn up by notary Romain Becquet. Their official wedding ceremony occurred on October 27, 119 days after Renée's arrival.
The couple settled at Sainte-Famille and had five children. It is possible and even likely that Pierre continued his occupation as an indentured servant-engagé since these were common arrangements in New France. If so, Pierre and Renée would have the use of a small home and some arable land as part payment for his labours.
Unfortunately, one of the children died before the next official census in 1681. But it was their third child, Marthe-Madeleine, born August 31, 1675, who would eventually carry Renée's lineage to Lazare Côté.
1712 Marthe-Madeleine

Garand m. Charles Dumas » Genevieve-Marthe*

1736 Genevieve-Marthe

Dumas m. Charles Chaine » Felicite

1765 Felicite Chaine

m. François Croteau » Pelagie

1791 Pelagie Croteau

m. Charles Côté » François-Xavier

1816 François-Xavier Côté

m. Rose Marion » François

1845 François Côté

m. Marie-Desanges Choret » Lazare

1870 Lazare Côté

m. Clarice Bergeron
1712 Marthe-Madeleine Garand m. Charles Dumas » Genevieve-Marthe*
1736 Genevieve-Marthe Dumas m. Charles Chaine » Felicite
1765 Felicite Chaine m. François Croteau » Pelagie
1791 Pelagie Croteau m. Charles Côté » François-Xavier
1816 François-Xavier Côté m. Rose Marion » François
1845 François Côté m. Marie-Desanges Choret » Lazare
1870 Lazare Côté m. Clarice Bergeron
* The Garand-Dumas marriage appeared earlier under
Marguerite Foy
since a child of one Fille du Roi who was our ancestor married a child of another ancestral Fille du Roi. The lineages that follow to Lazare are therefore identical, except that Charles Dumas and Marthe-Madeleine Garand came from separate Filles parents.
Sadly, Renée would never live to see the marriages of any of her children. She died giving birth to twins in her 40th year, when her oldest child was just 12. Both newborn daughters, Marie-Madeleine and Marie-Catherine, survived. Aside from dates and names noted in church records, it's impossible to know anything more about such a bittersweet event occurring on March 6, 1684 at Saint-Laurent. Renée was laid to rest the following day in the nearby parish of Saint-Jean. We can only wonder if friends and family she may have had back in France were even aware of her passing.
Later that year on November 21, Pierre Garand married Catherine Labrecque (not a Fille du Roi) at Saint-Laurent, and over the following 12 years they had six more children. Pierre Garand died when he was 56 years old at Saint-Laurent, Québec.