Marguerite Lamain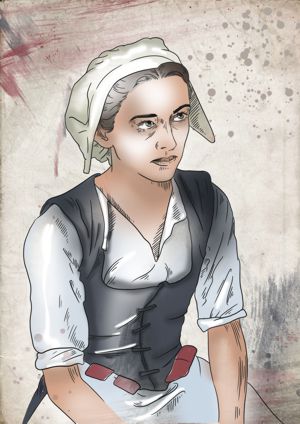 Of all 18 of our Filles du Roi matriarchs, Marguerite Lamain (or Maine) may rank among the most unusual. She was born in about 1657 in Rouen, Normandy, the daughter of Jacques Lamain and Marguerite Deshaies. We can only wonder how a 13-year-old girl would have the maturity to make such a commitment or what her life conditions were that someone sought to improve by sending her alone from France at such a tender age to meet her destiny — and probably with the knowledge that they would never, ever meet again.
The ship Saint Jean-Baptiste arrived in Québec City at the end of July, bringing Marguerite and her trousseau with goods stated to be worth about 300 livres for her dowry. No doubt she would find some solace in the company of some 119 other Filles who presumably treated her as a little sister.
In modern culture it's unthinkable that Marguerite would be taken to the convent of the Ursulines and ultimately asked to choose a husband among grown men. The only relief I can find for such a terrible thought is that Marguerite's was not a rare case in the world's turbid evolution. Child marriages are still common in some places today. In fact we have twelve other ancestors over six generations that preceded Lazare and Clarice Côté who married at 13 years of age. The only thing that sets Marguerite Lamain apart is that she was one of the Filles du Roi.
Michel Rognon dit Laroche was born about 1639 to Charles Rognon and Geneviève Le Parmentier in the parish of Saint-Germain l'Auxerrois in Paris. He arrived in New France on June 30, 1665 at 26 years of age, five years before Marguerite's arrival, as a soldier with the Monteil Company of the Carignan Regiment. The soldiers of the Carignan Regiment had been sent by France to protect settlers from unprovoked attacks of the Iroquois.
It seems there were at least some concerns for Marguerite's emotional and physical well-being. By the time she married on September 14, 1670, about six weeks had passed since the landing of her ship, and almost all of her fellow Filles had already departed the Ursulines with their new husbands, suggesting that either the Ursulines were more protective of young Marguerite about whom they considered a suitable mate or that most men who called were simply not interested in starting a family with a 13-year-old child. Marguerite did, however, marry Michel Rognon, now 31 years old, at Québec City, regardless that there were 18 years between them. Marguerite could not sign the marriage contract drawn up previously on September 3 by notary Romain Becquet, but Michel could, at least in some acceptable fashion. King Louis XIV's intendant, Jean Talon, kept the regal promise made to Marguerite by providing the gift of 50 livres in kind from the king's stores. And so their marriage began in the village of Neuville in Québec.
While there is no question that Marguerite was a child bride in the truest sense, it comes as some consolation to learn that she did not bear any children during the first three years of her marriage to Michel Rognon. Finally at 16 she gave birth to a son and then continued a succession of child-bearing for the next 24 years — 14 children in all.
On November 8, 1684, Michel Rognon died for unstated reasons and was buried at Neuville. He was only 45. His sixth and final child was just a year old. It would be their fourth child, also named Marguerite, who would carry her mother's genetic blueprint onward to Lazare Côté.
1695 Marguerite Rognon

m. Julien-Charles Sevigny » Jean-François

1743 Jean-François Sevigny

m. Marie-Anne Croteau » Catherine

1780 Catherine Sevigny

m. Michel Charest » Joseph

1807 Joseph Charest

m. Marguerite Aubin » Marie-Desanges

1845 Marie-Desanges

Chaurette m. François Côté » Lazare

1870 Lazare Côté

m. Clarice Bergeron
1695 Marguerite Rognon m. Julien-Charles Sevigny » Jean-François
1743 Jean-François Sevigny m. Marie-Anne Croteau » Catherine
1780 Catherine Sevigny m. Michel Charest » Joseph
1807 Joseph Charest m. Marguerite Aubin » Marie-Desanges
1845 Marie-Desanges Chaurette m. François Côté » Lazare
1870 Lazare Côté m. Clarice Bergeron
After Michel's passing, his widow, now just 28 years old, still had much of her life ahead and wasted no time remarrying with her ready-made family. Exactly two months after her husband died, on January 8, 1685, Marguerite Lamain/Rognon married a grain miller, Pierre Mercier, at Neuville. It would be his only marriage. Unlike her first husband, Pierre was much closer in age — only four years her senior. The following 27 years they spent together could have provided essence of a normal adulthood for Marguerite. But that wasn't in the cards. She gave birth, astoundingly, to another eight children before Pierre's death at 59.
As if there wasn't already enough to pique curiosities of later generations, there was a glaring enigma.
Only the first of all eight Mercier children survived. The last seven all died very young, with no causes of death reported in the records: a set of twins born on the same day and who died together 14 days later, then two more boys and three more girls, all born about two years apart, all dying between 10 days and two years of their births. Four of the deaths occurred in extreme winter months. Did they succumb to freezing or pneumonia? Were they victims of epidemics of contagious diseases in the colony? Or was something more sinister the cause? These questions will never be answered, but there is no doubt that the seriousness of events in Marguerite's life was a recipe for hardship and sorrow for her and for hundreds of other women whose lives in early Québec were at least similar.
Marguerite did not reach the average age of her Filles du Roi counterparts. She died of unreported causes sometime after October 10, 1714 at approximately the age of 57. She had been in Canada for 44 years and the youngest of her living children was already 28 years old.
Sadly Marguerite Lamain would only have vaguely known her own parents, if she knew them at all. She might have lived all or only a portion of her childhood with siblings or cousins, friends, or relatives. Anybody she might have loved in France and everything in that early chapter of her life was lost forever when she was placed aboard Saint Jean-Baptiste in 1670 among strangers and sent to meet a nebulous future in a completely different world. She must have been very scared.
The life she managed in Canada was one of obvious adversity, one she met on her own. As she faced each challenge, there were few if any choices. We only know that she accepted the consequences of her unfolding years with immense courage because she needed to survive. And her bravery came from a source of great character strength, one that we all inherited in some form. What would we have done in her situation? Or are we too spoiled to care?
I can't help but conclude that this was another lamentable story that would have made a most gripping movie. If there were more details available, the temptation might have been too much to resist.